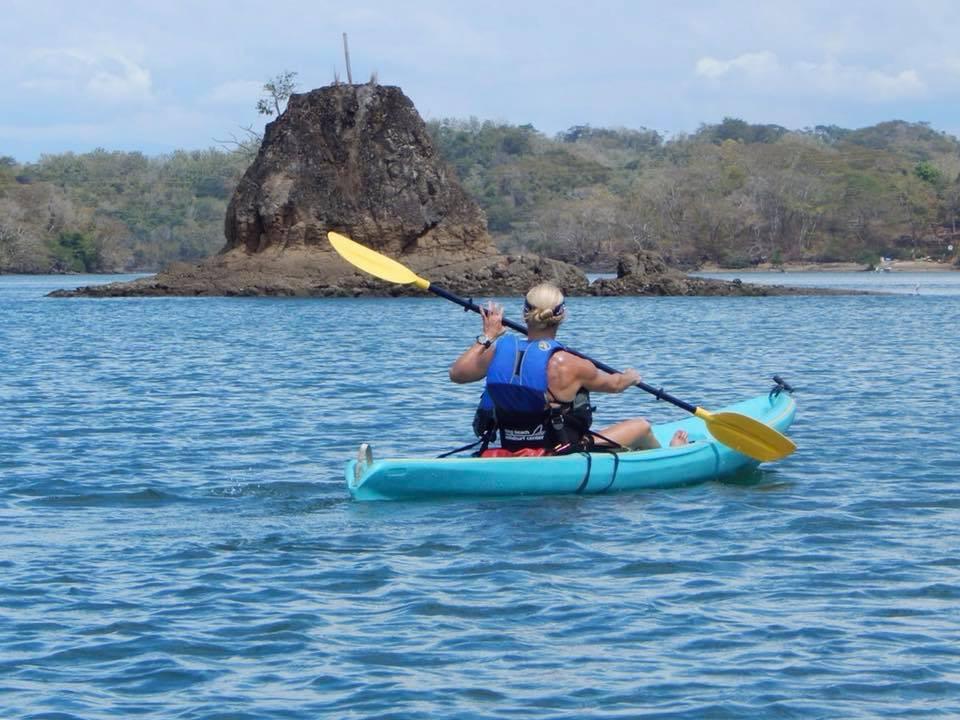 Best Costa Rica Kayaking Tours off the Nicoya Peninsula
Next to the Nicoya Peninsula and dotted throughout the Gulf of Nicoya in Costa Rica lies a host of stunning and unique islands. For ecotourists and adventurers, there's no better way to explore the wonderful experiences these islands have to offer than taking a sea kayaking trip in these serene seas.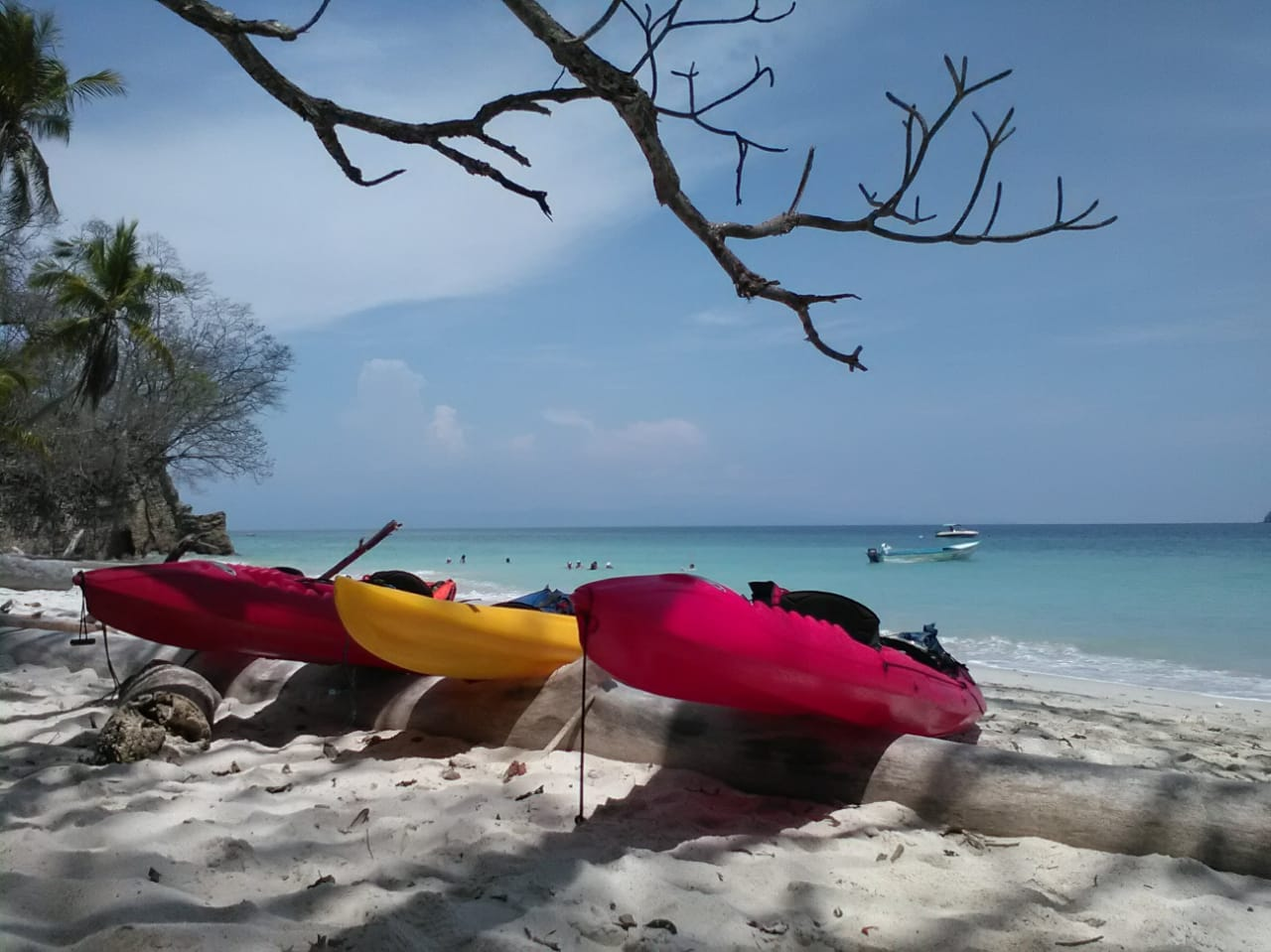 Nicoya is an ecotourism hub in the northern area of Puntarenas Province. The peninsula itself hosts some of the most pristine beaches in Costa Rica. A hotspot of aquatic activity, this area is known for its incredible waves (surfers rejoice!), diverse tide pools, and beautiful sunsets.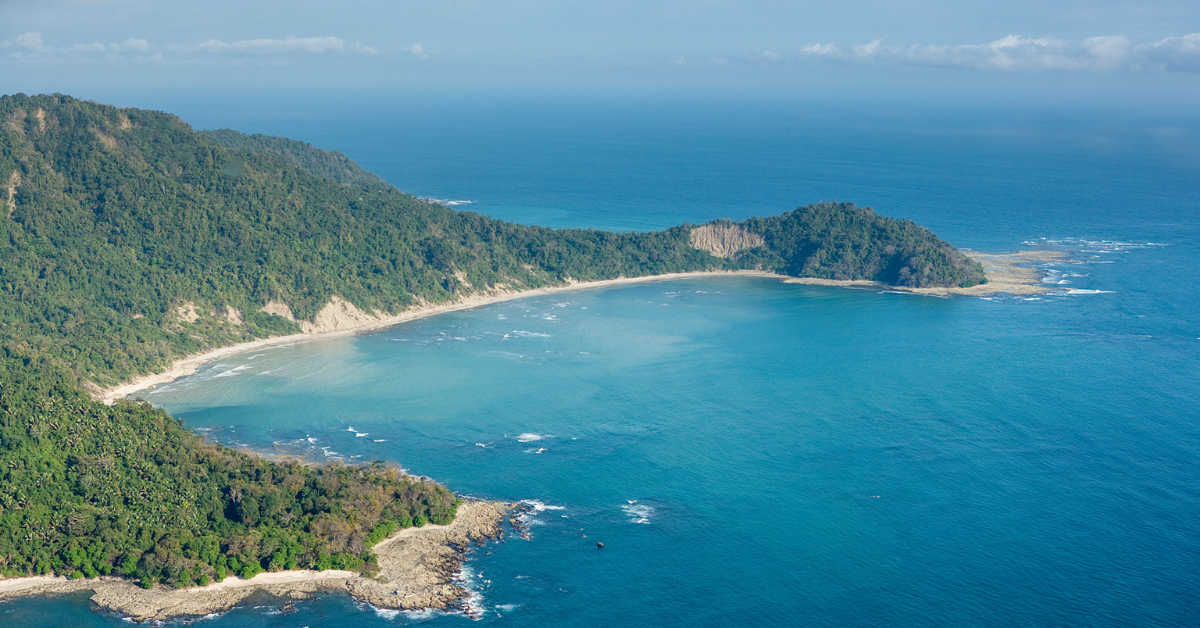 It's one of the most popular areas in Costa Rica, however, people often miss the chance to venture further and enjoy the amazing features of the islands in Puntarenas Province that sit right off of the coast.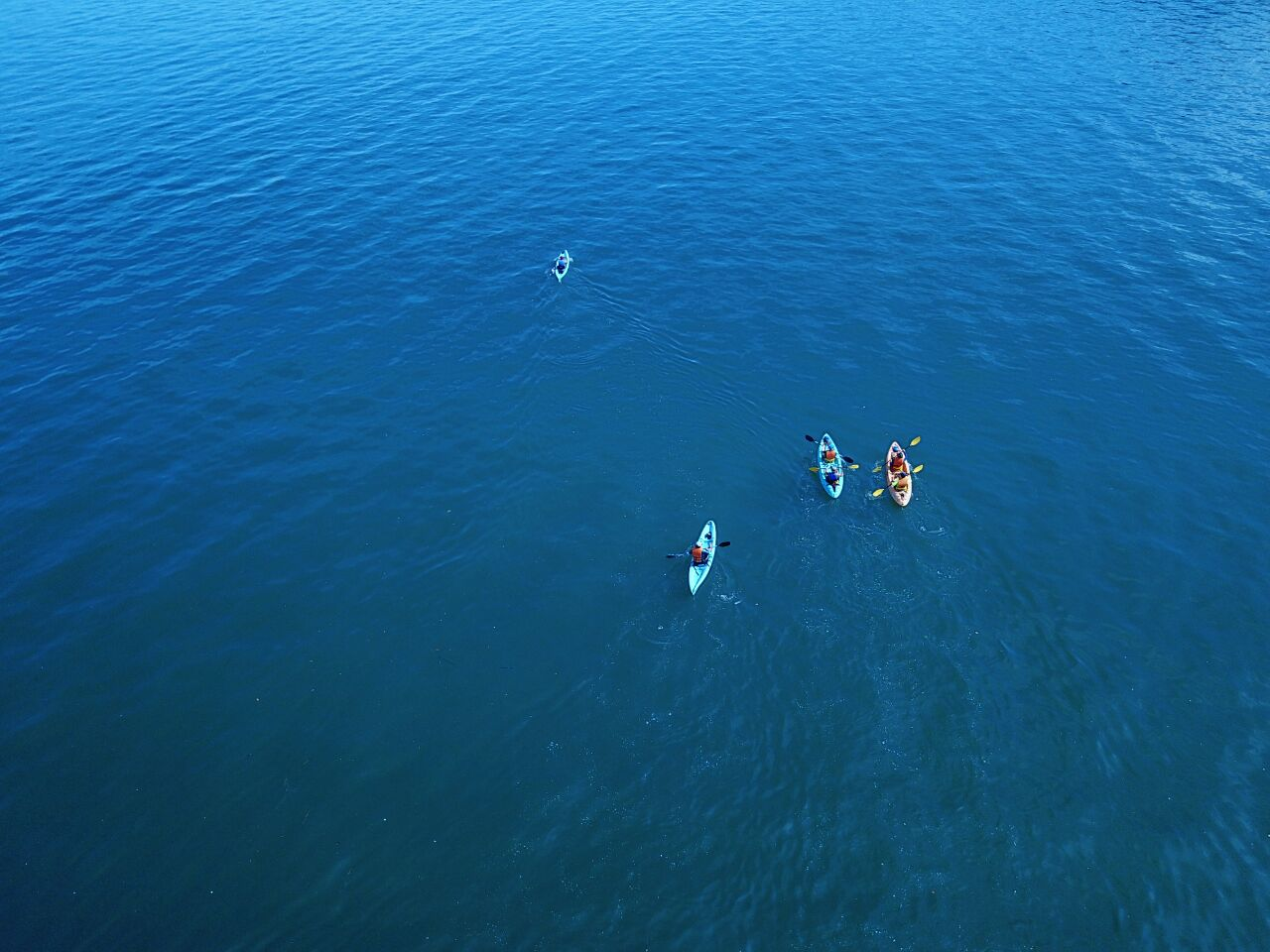 The Gulf of Nicoya is protected by the Nicoya Peninsula and the mainland, making the region much calmer than the open ocean of the Pacific or the Caribbean Sea. It's important to plan kayaking trips with weather conditions in mind both for safety and for enjoyment. We love adventure, but no one wants to battle the wind!
While there are plenty of incredible kayaking opportunities along both of Costa Rica's coasts, the Gulf of Nicoya (and Gulfo Dulce to the south) is consistent for its usually calm and serene waters. This means kayakers can plan trips in advance with the confidence that conditions will be on their side as they explore. That's why we find this to be one of the best regions in Costa Rica for a sea kayaking experience!
Ecotourism and Costa Rica Kayaking Tours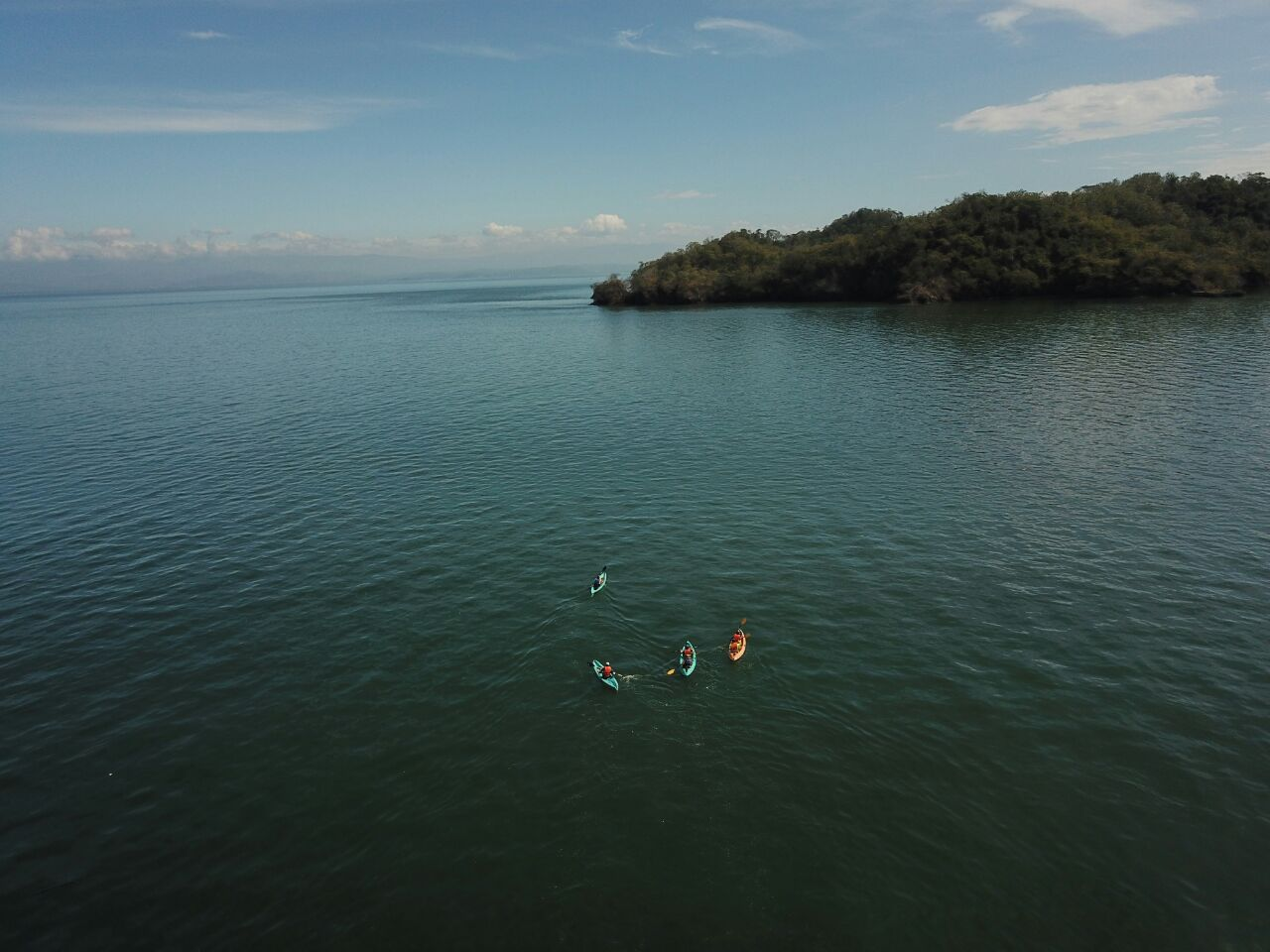 Sea Kayaking in Costa Rica provides you with an entirely new way to see the diverse wildlife and landscapes that this country has to offer. While lounging on the beach gazing at the horizon is always a welcome activity, looking back at this beautiful country from the ocean itself is an experience like no other.
Choosing to go on a sea kayaking tour is a more sustainable and eco-friendly option for those looking to take advantage of Costa Rica's fantastic ecotourism opportunities. Instead of embarking on a gas guzzling boat tour, choose a zero-emission Costa Rica kayaking tour instead!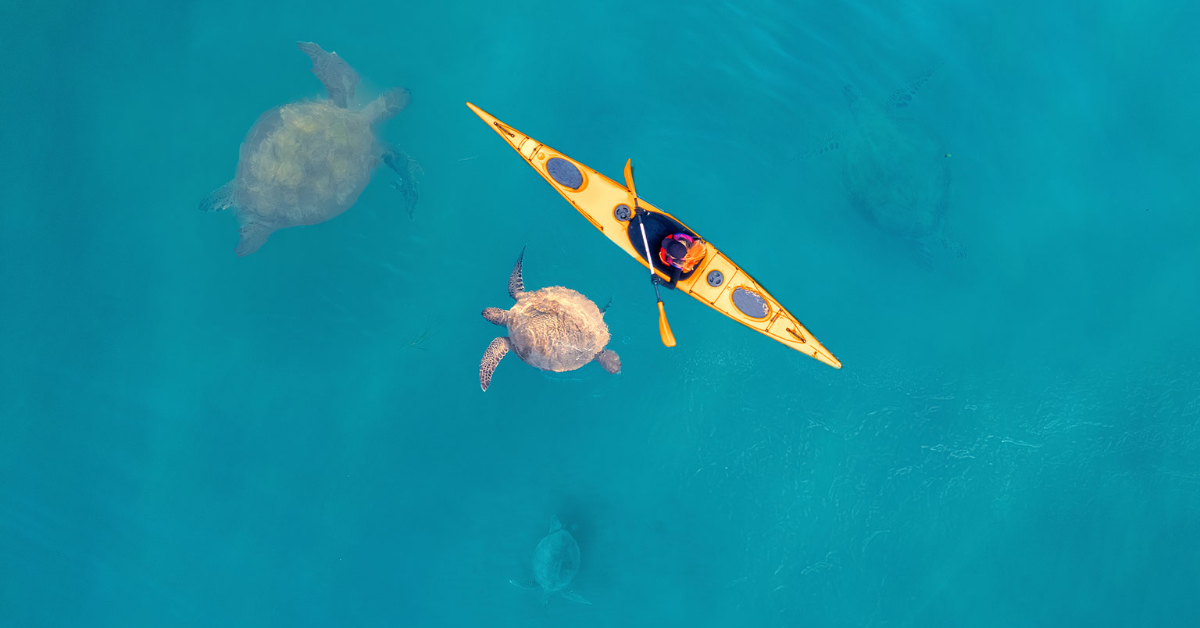 Plus, Costa Rica's sea kayak tours let adventurers see unique nature and wildlife from an entirely new perspective. Quiet kayaks mean you can spot dolphins, giant sea turtles, and shimmering schools of tropical fish with minimal disruption. An experience that a loud boat tour doesn't always allow for.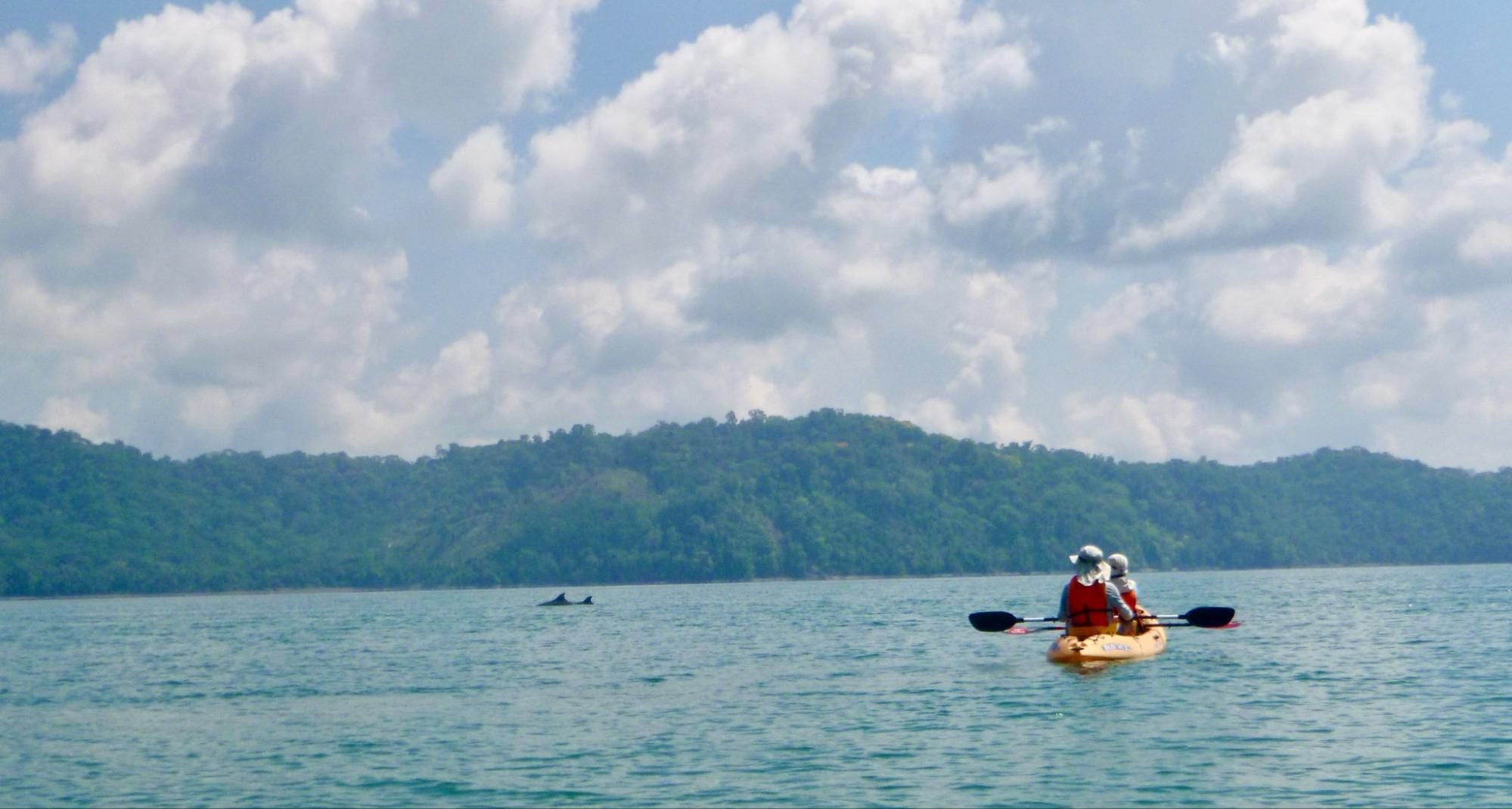 Sea kayaking over crystal clear waters in the Gulf of Nicoya gives ecotourists an opportunity for up close and personal encounters with the marine wildlife of Costa Rica without disrupting the natural habitat.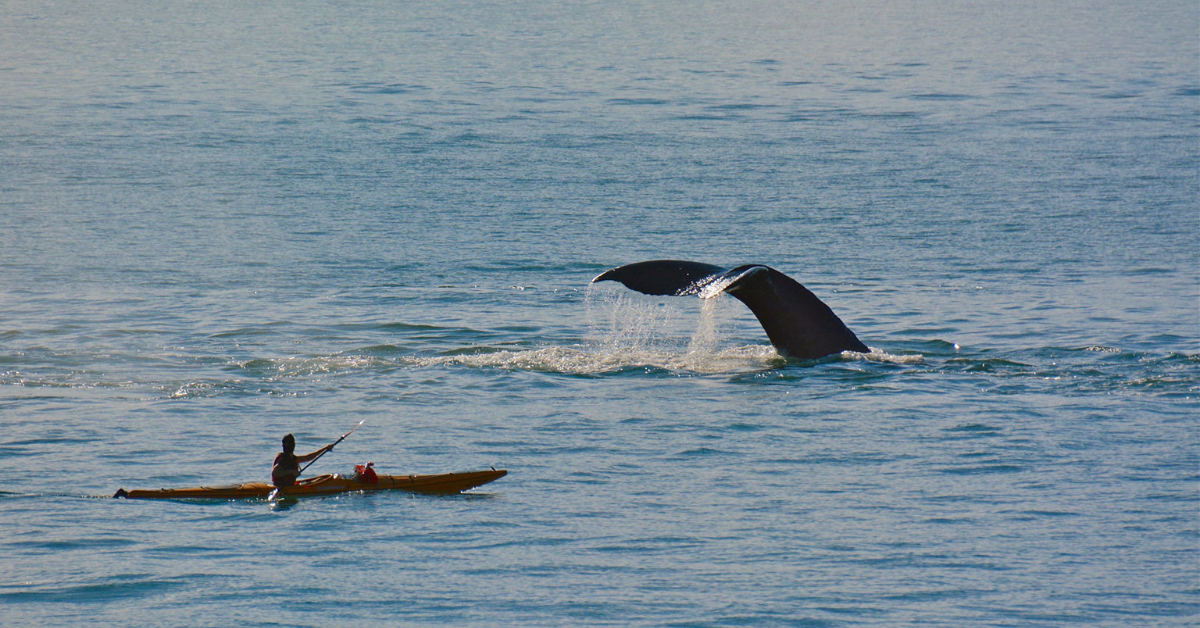 However, if you choose to go on a one of a kind bioluminescence tour in Costa Rica's Puntarenas province, we suggest splashing the water a bit more than usual to take advantage of the stunning light show (don't worry, it doesn't hurt the bioluminescent algae!).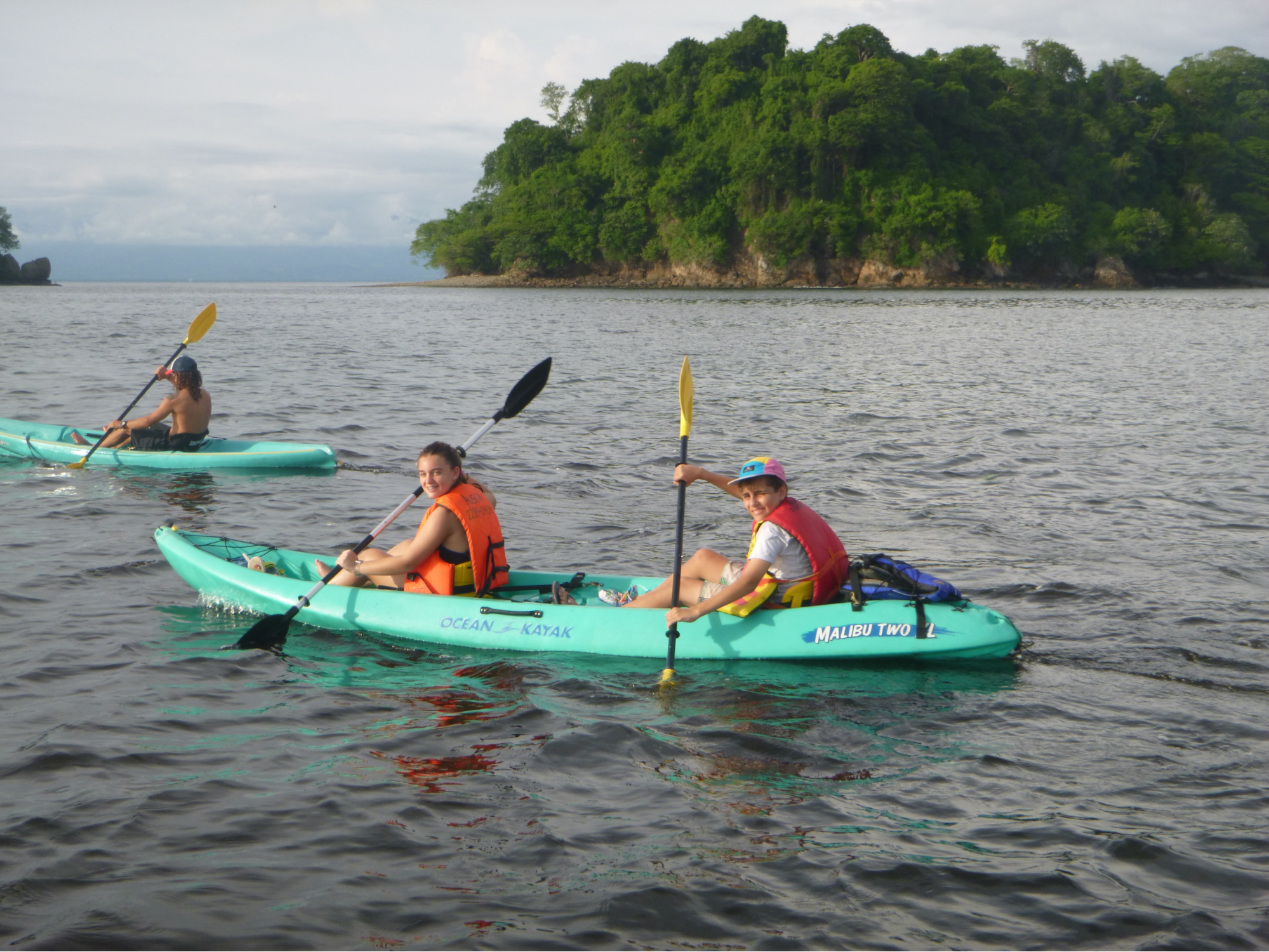 Northern Puntarenas Province has some amazing regions where you can take a sea kayak tour. But there are a few islands that hold the crown as our personal favorites!
Sea Kayaking at Isla Jesusita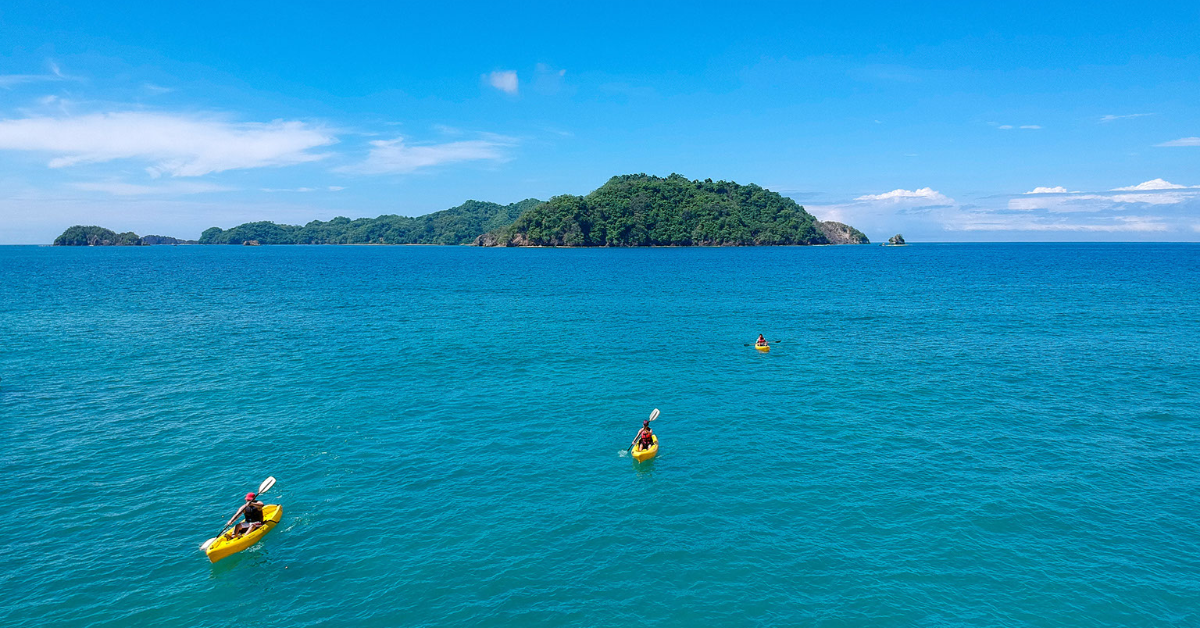 Isla Jesusita is a small, lush island close to the small town of Paquera. You'll start your sea kayaking tour by paddling through the calm bay toward the southern tip of the island. Many sections of the Isla Jesusita's coastline are steep and covered in lush trees, while the southern and northern ends host small sandy beaches to pull your kayak up to and relax.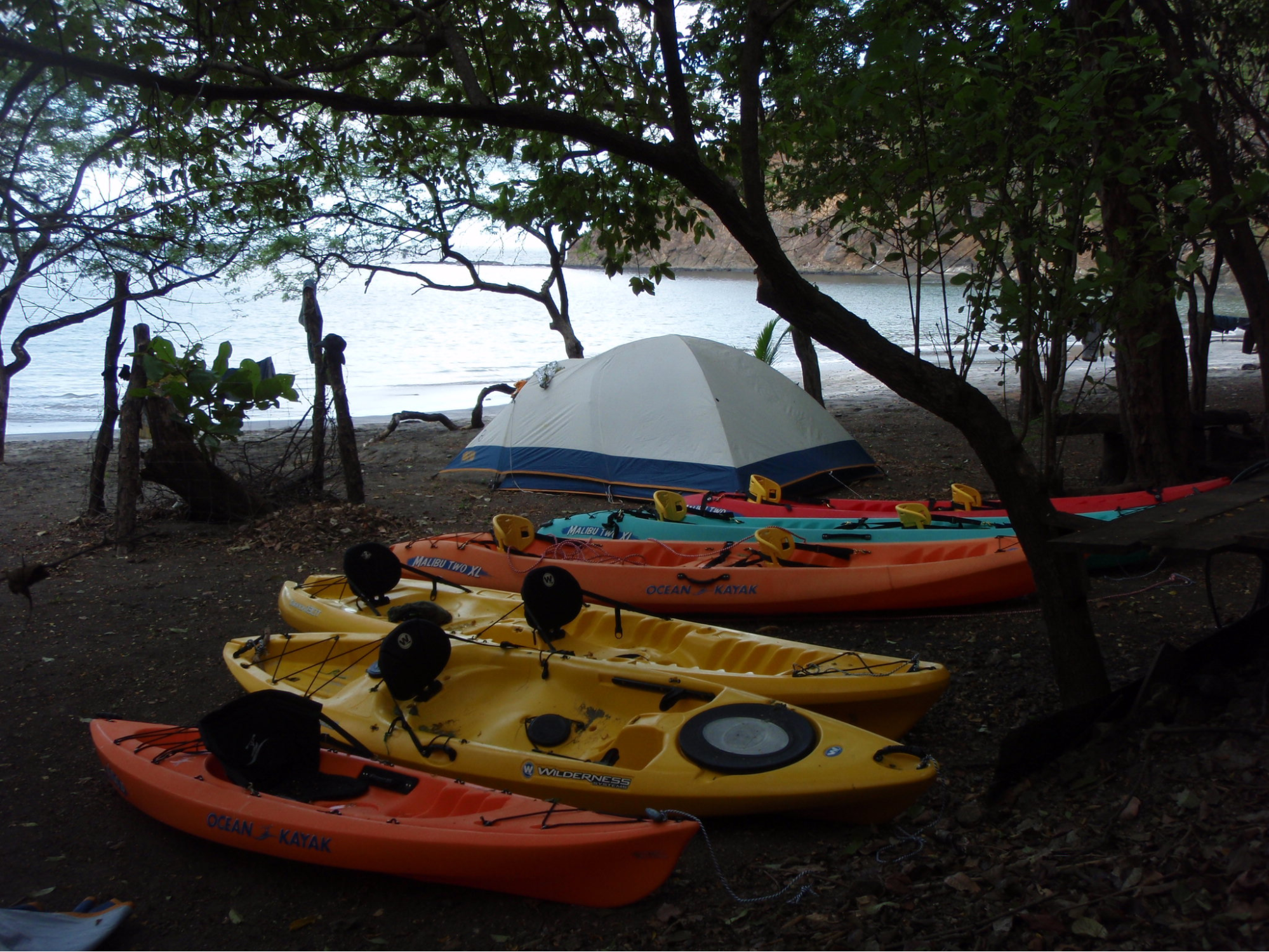 The northern end of the island offers a campsite and a bioluminescent bay that can't be missed if you're visiting this region of Costa Rica!
Sea Kayak in a Bioluminescent Bay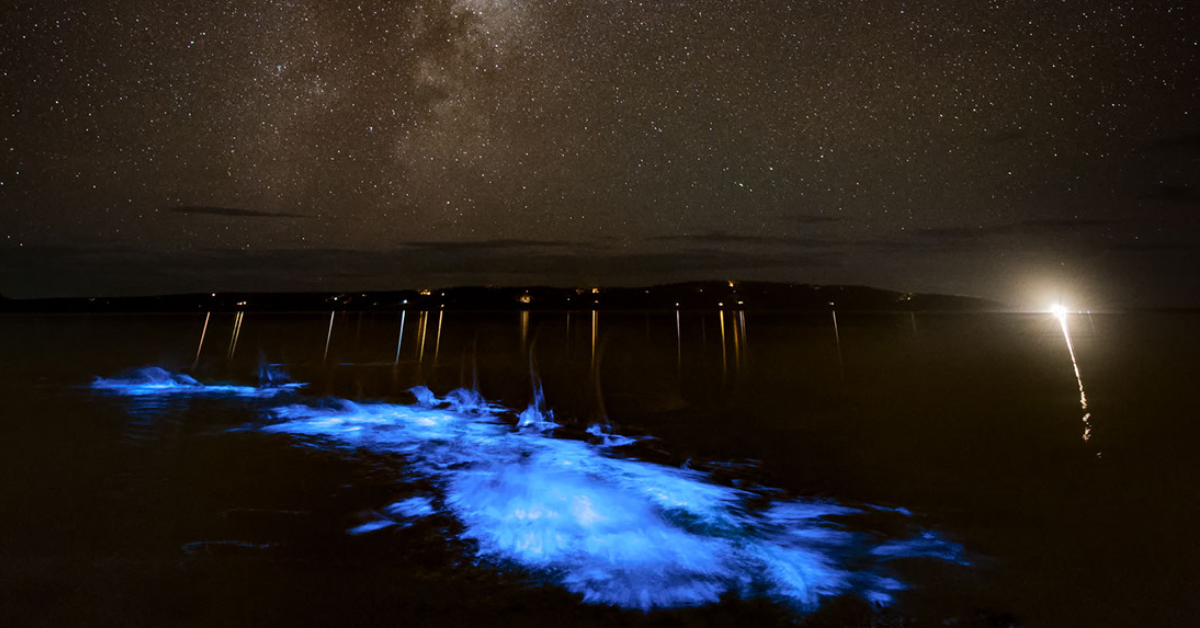 One of the most unique and special Costa Rica kayaking experiences Isla Jesusita has to offer is its Bioluminescence tours. It's one of only a select few places in this world that hosts bioluminescence year round, allowing adventurers to witness the starry sea every day of the year.
Bioluminescence happens when a living organism gives off light through a chemical reaction. You've probably seen bioluminescence in fireflies, glow worms, or jellyfish, but few people get to witness the stunning effect that bioluminescent plankton and algae have in the ocean.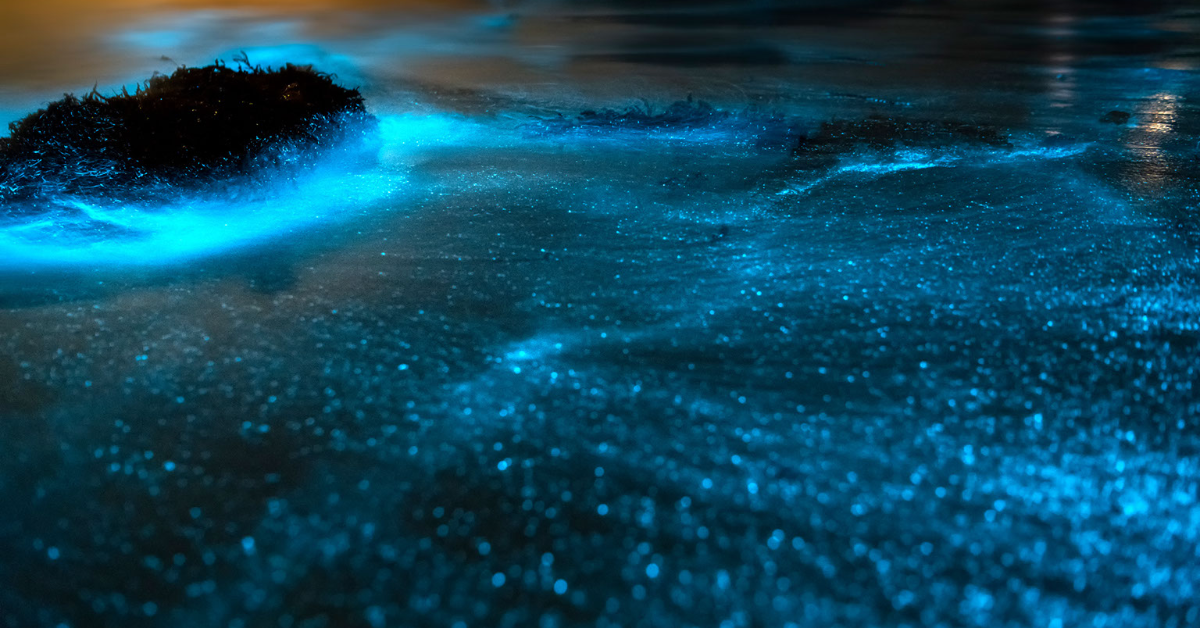 Those that do get to experience this natural wonder first hand describe it as a liquid sky, with the otherworldly glowing specs creating splashes of stars and glitter all around them. Truly, the only way to fully experience this phenomenon is by getting up close in a kayak tour.
Costa Rica's bioluminescent water gets its glow from the algae that happily lives there year round.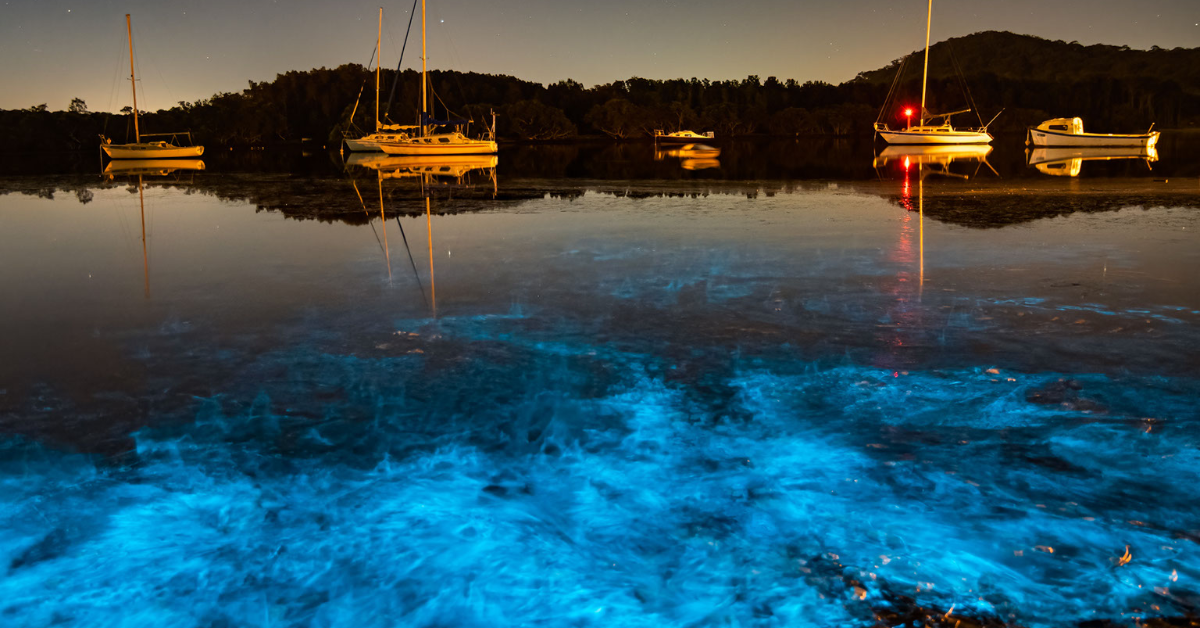 You can thank the amazing history Costa Rica has regarding ecotourism and environmental policy for helping to protect the natural habitat that hosts this incredible spectacle.
Kayaking tours in the bioluminescent bay are one of the top bucket list items for many adventurous souls.
Sea Kayaking Trips at Isla Cedros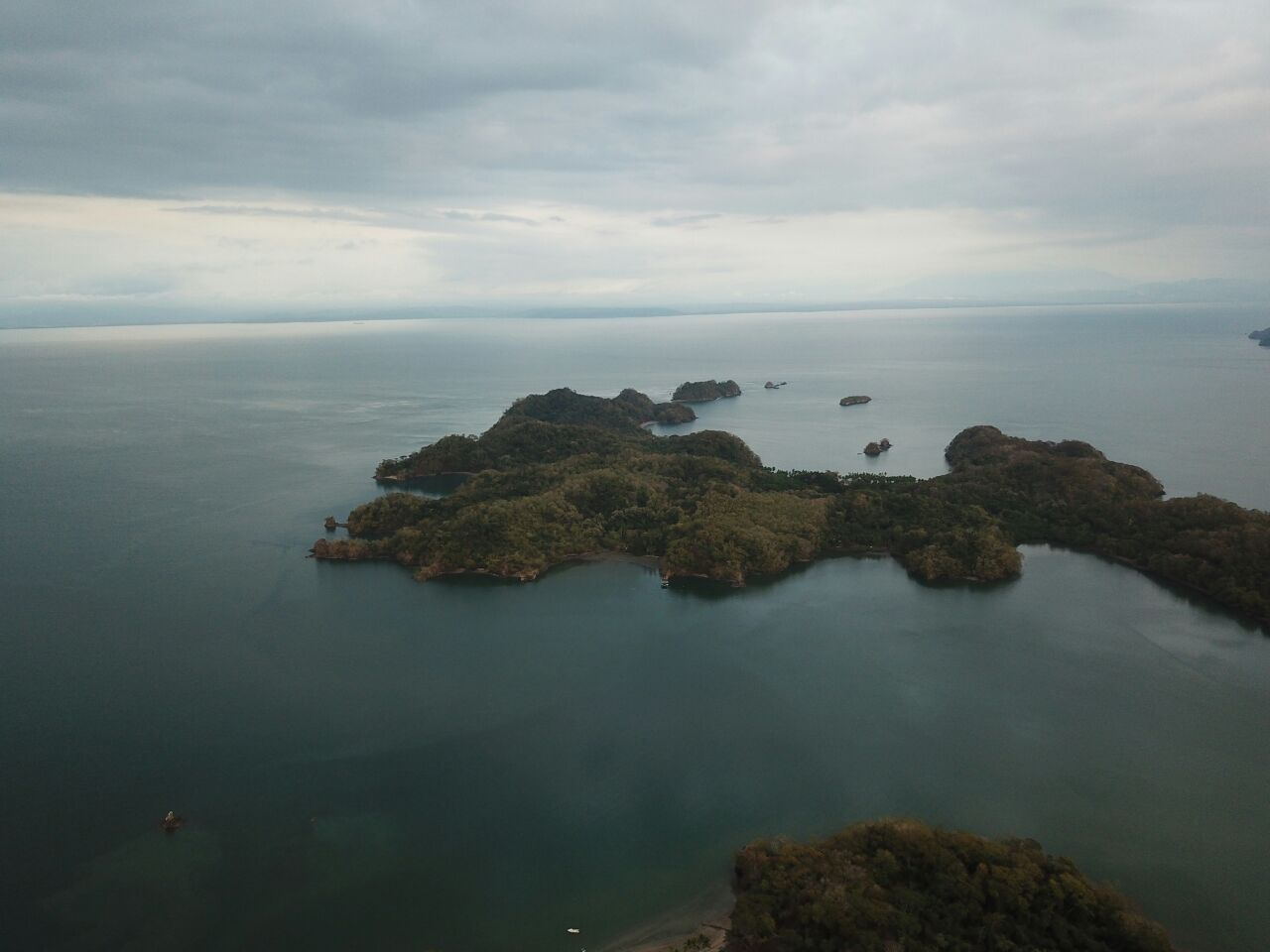 Right next to Isla Jesusita is Isla Cedros, which makes up a part of the Reserve Biologica Guayabo.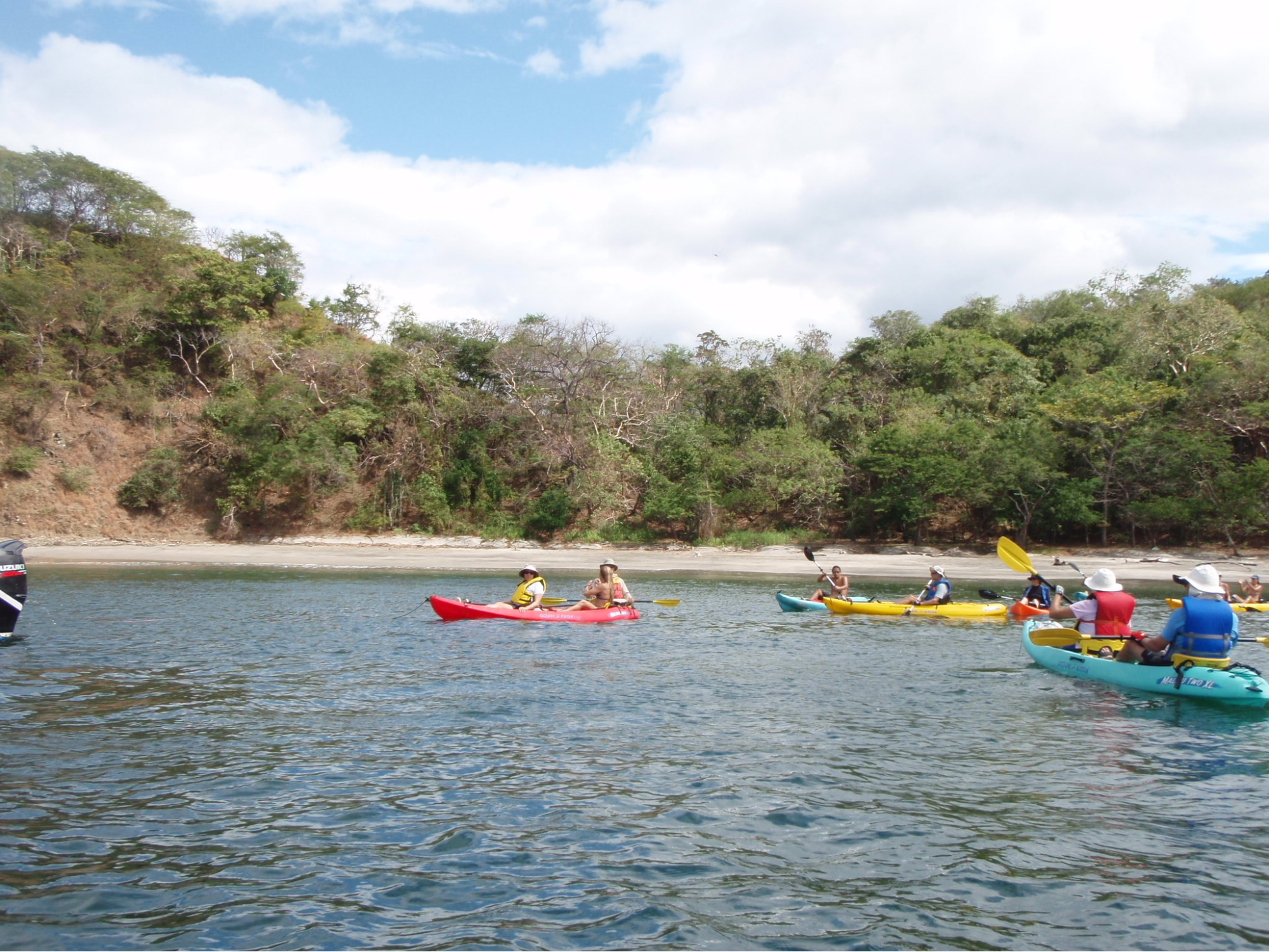 The larger of the two islands, Isla Cedros offers many more beaches you can pull your sea kayak onto when you want to take a walk and adventure.
Reserva Biologica Guayabo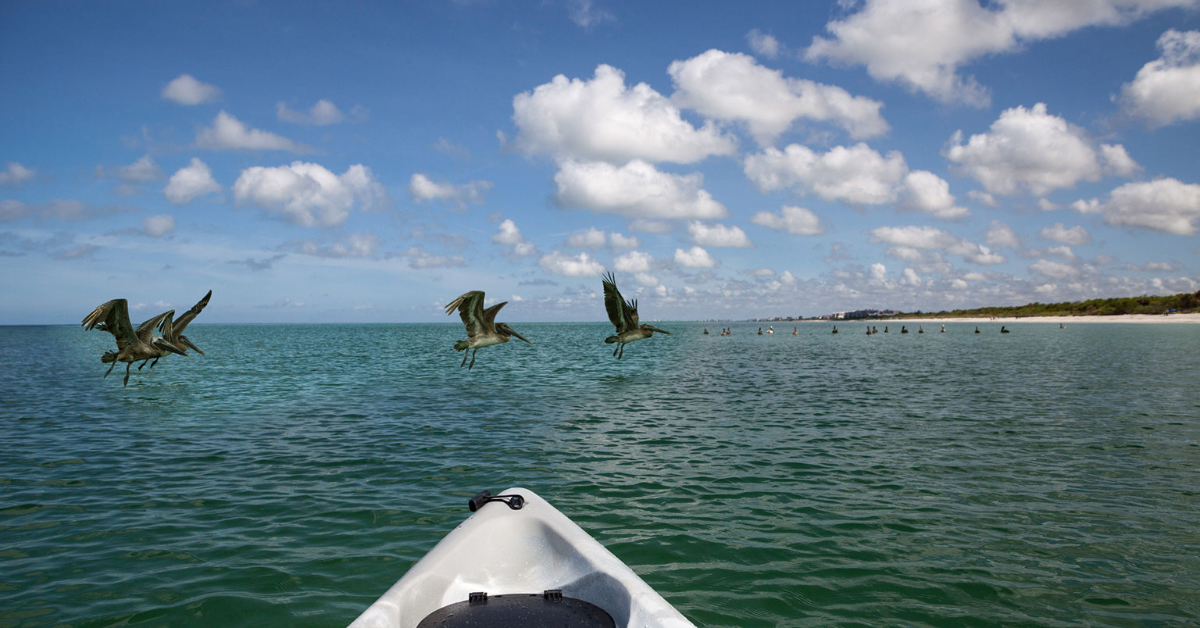 The Guayabo Biological Reserve (or Reserva Biologica Guayabo) spans three islands in Costa Rica, one of which is Isla Cedros. The islands that make up the reserve are active nesting sites for brown pelicans and a wide variety of other sea birds.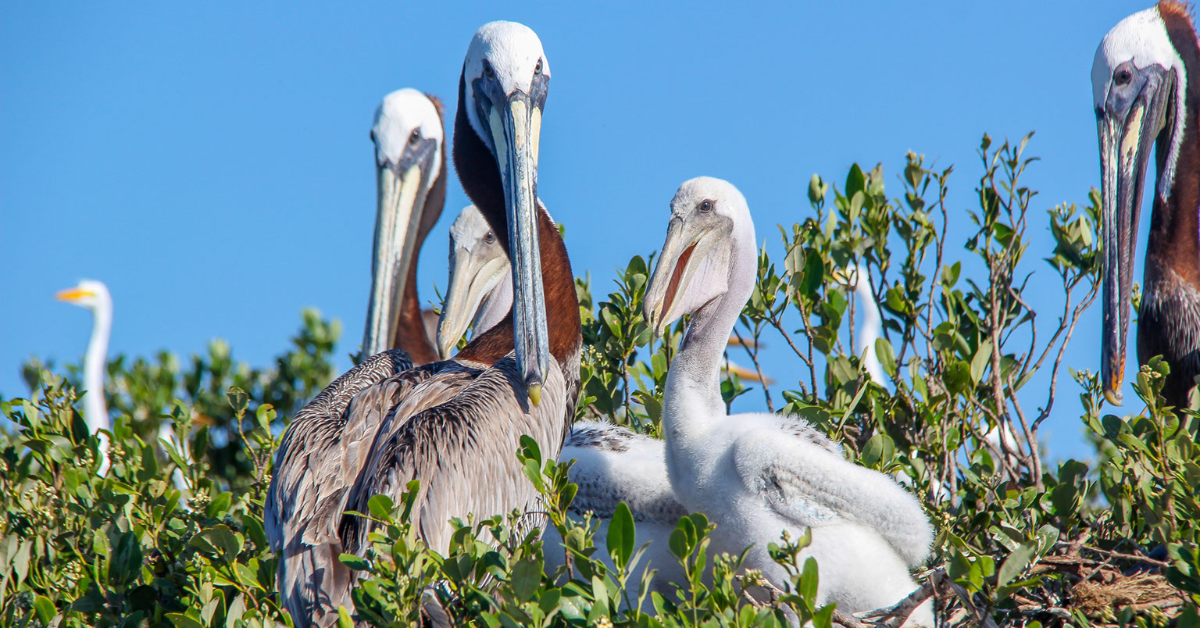 Nesting season begins in the winter and usually peaks between March and April, so bird watching enthusiasts may wish to book their sea kayak tour during this time if they want to see some young birds learning to take flight!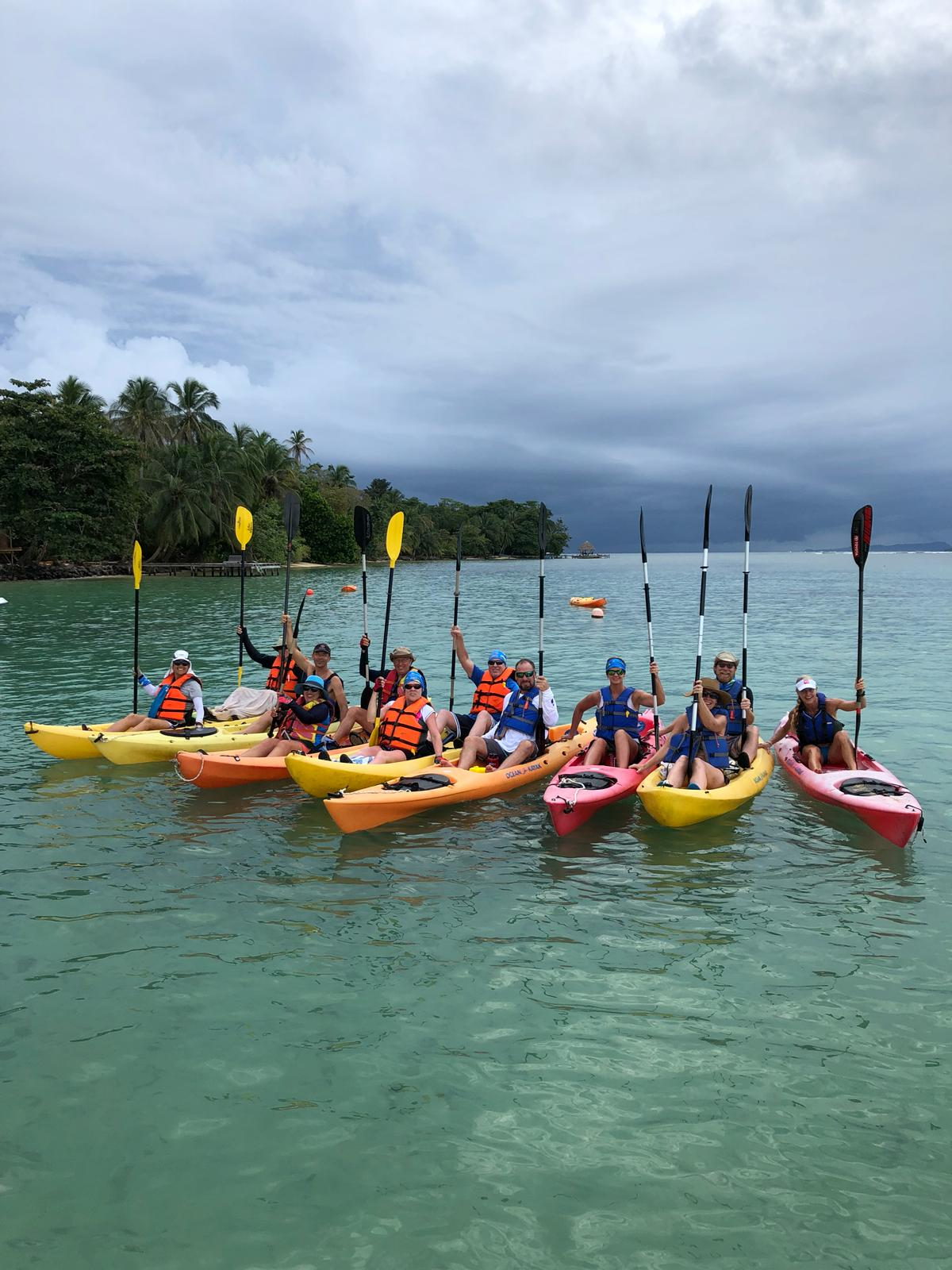 When on your sea kayaking tour you can enjoy stopping by one of the sandy beaches that dot the coastline of Isla Cedros. Take a break from paddling to enjoy lunch and go for a dip on the island's many beautiful secluded shores.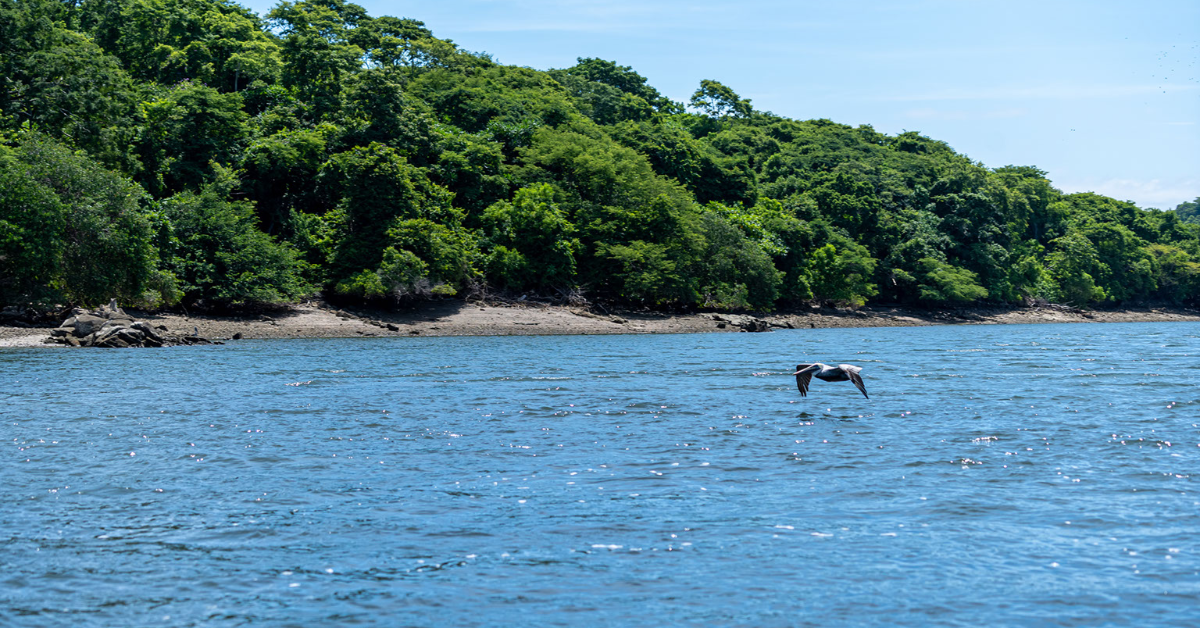 Because it is a reserve for nesting seabirds, wandering freely anywhere on the island is not allowed. However, you can bring a pair of binoculars and view a variety of birds flitting about the treetops as you float around the perimeter of the island in your kayak.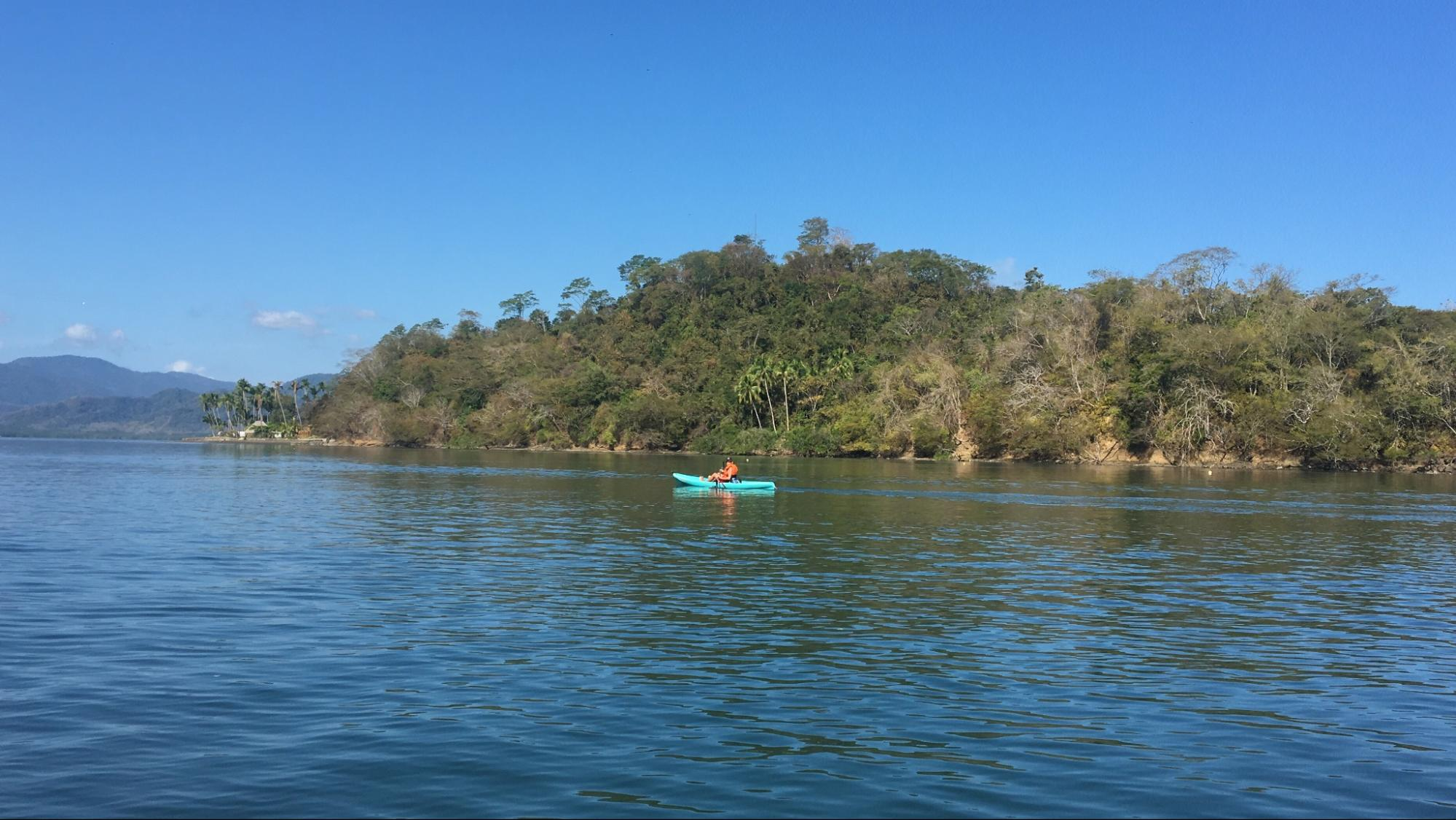 Isla Aves and Isla Gitana also provide fantastic bird watching opportunities for those taking a kayaking tour. Just north of Cedros, Isla Gitana has a lovely campsite and lies close to the peninsula's coastline, making it a great stop over for multi-day kayak trips.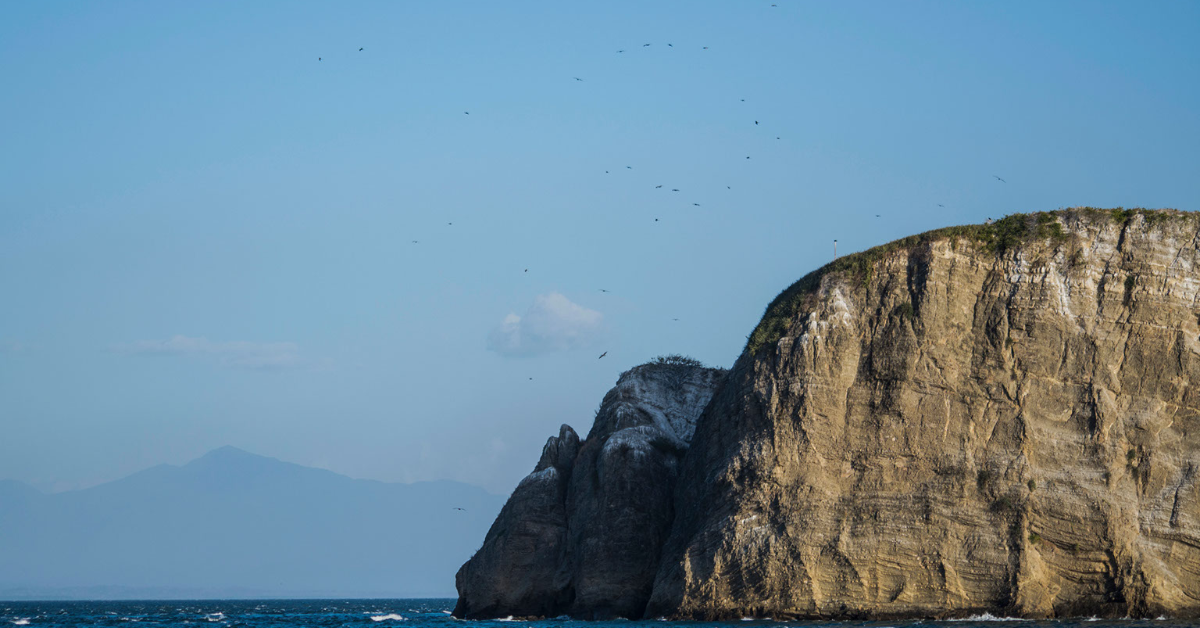 Those who are looking for a bit more adventure have the opportunity to head further into the open waters of the gulf to Isla Aves. This small island appears lonely in the open ocean with its sheer cliffside and striking striations in the rock face, however, it's a hotspot for nesting birds!
The open grassy fields that top it provide the perfect environment for birds to raise their babies, meaning there's often a buzz of activity surrounding the island. Bird enthusiasts will rejoice at this chance to view a diverse variety of Costa Rican sea birds as they pass by.
Sea Kayaking at Isla San Lucas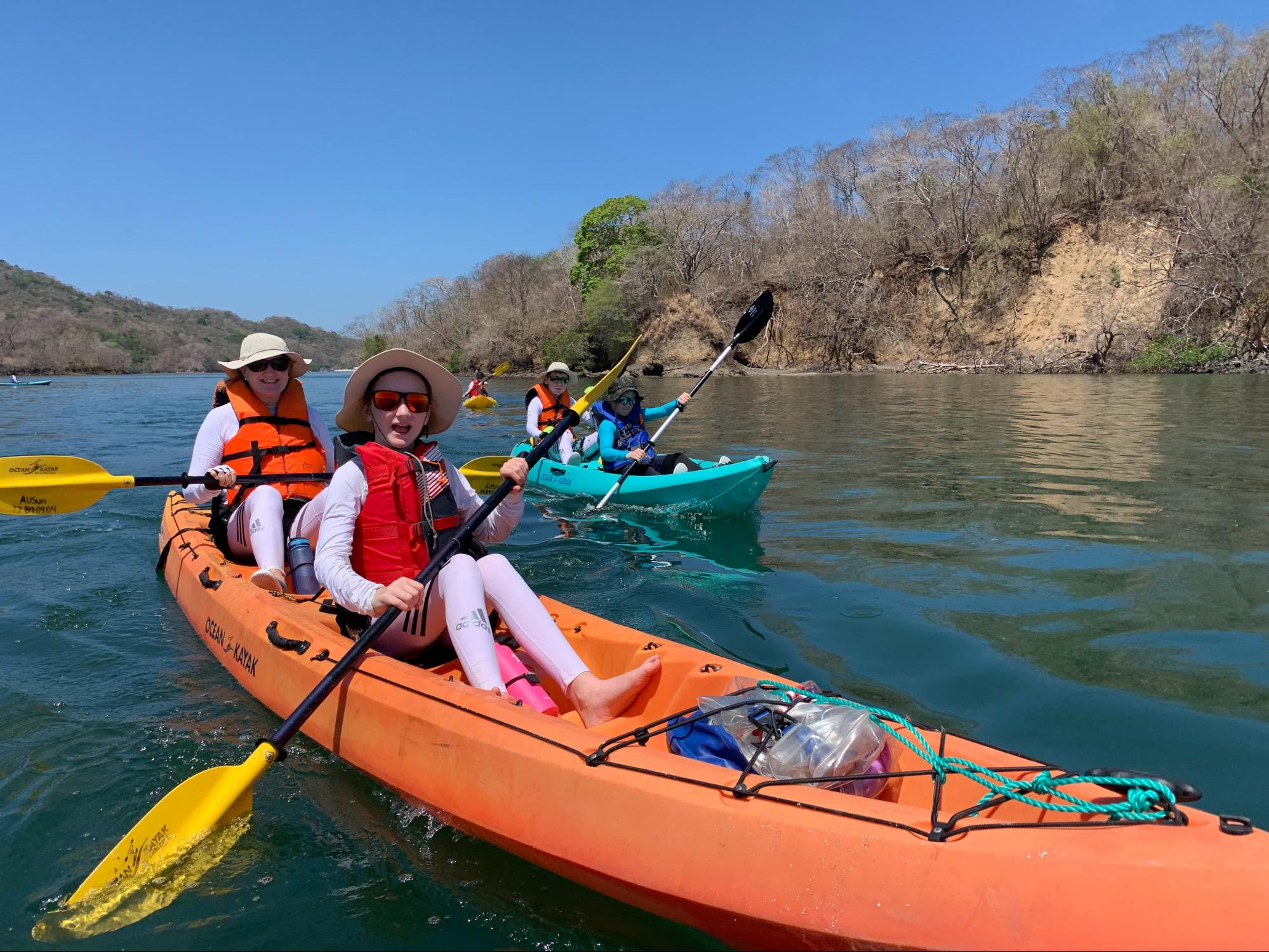 Further north along the Gulf of Nicoya lies Isla San Lucas. The island has a shallow bay on the northwestern side that is protected not only by the island itself, but also by the peninsula and mainland that flank either side. As a result, waters in the bay are relatively calm, offering a peaceful area to paddle and splash about.
San Lucas Island National Park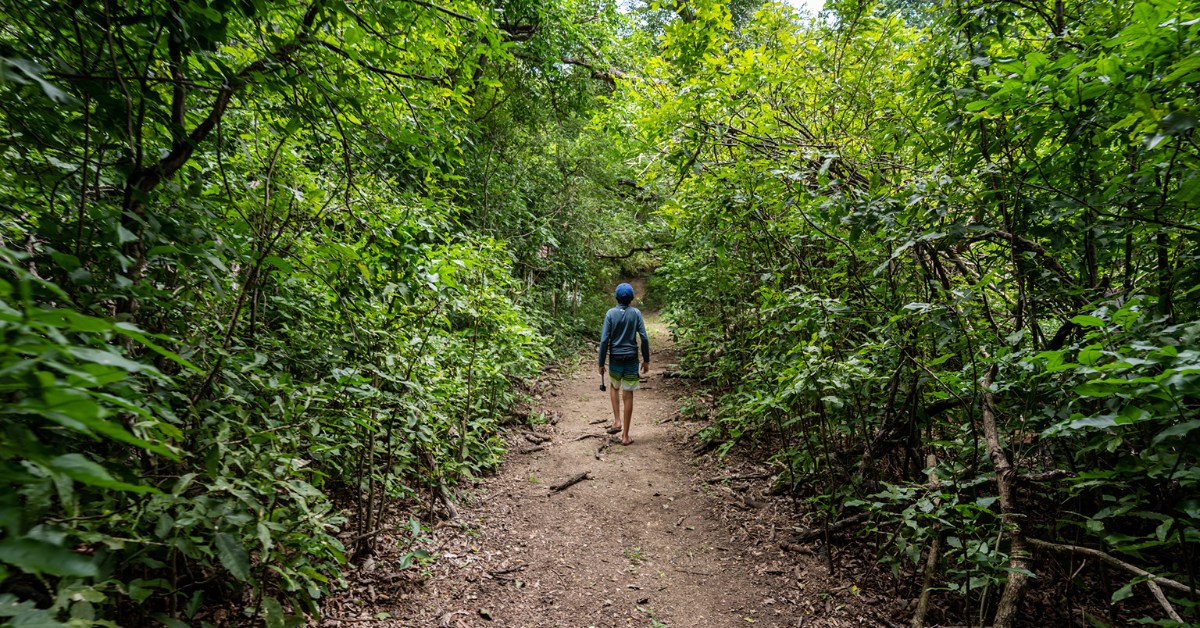 Isla San Lucas is home to the San Lucas Island National Park. Officially designated in 2020 as 30th national park in Costa Rica, a host of wildlife make their home on the island's peaceful shores and in its forests. The park also offers a lovely hiking area for kayakers who want to get out and stretch their legs.
Visit the Former Prison "Carcel San Lucas"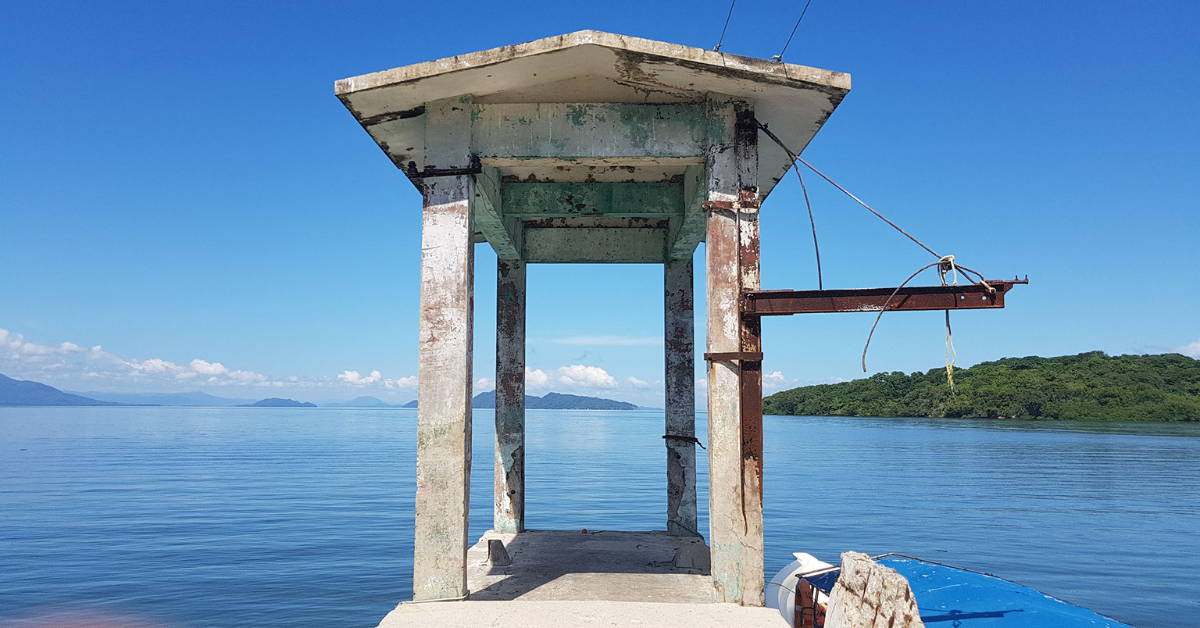 During your kayak adventure to Isla San Lucas, you can visit the former prison, which has been turned into a museum.
Various buildings that once hosted personnel and prisoners are dotted throughout the island and are now considered to be cultural heritage sites.
Sea Kayaking to Isla Chira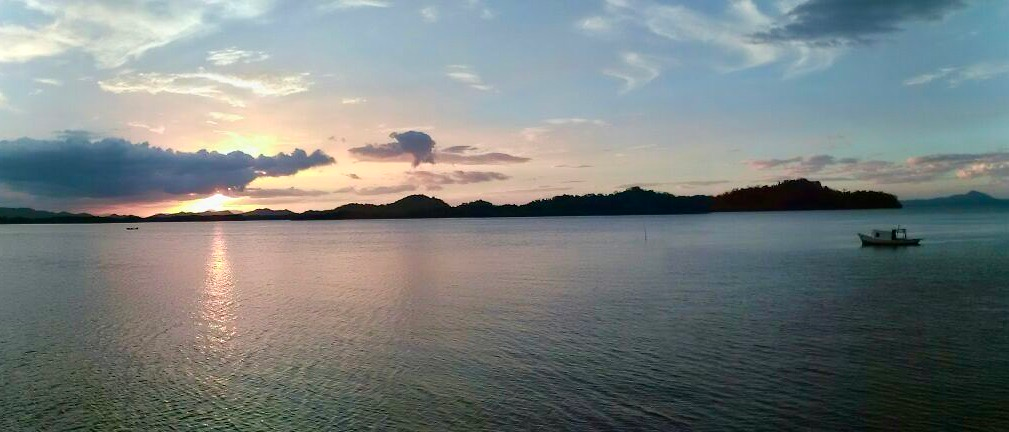 Isla Chira is the biggest island in the Gulf of Nicoya region, home to over 3,000 inhabitants and many beautiful beaches. To the eastern coast of the island lies a small bay that leads into a beautiful estuary "Estero el Encanto". Kayakers have the chance to paddle down its banks and explore the many small rivers and pools that branch off the main body of water.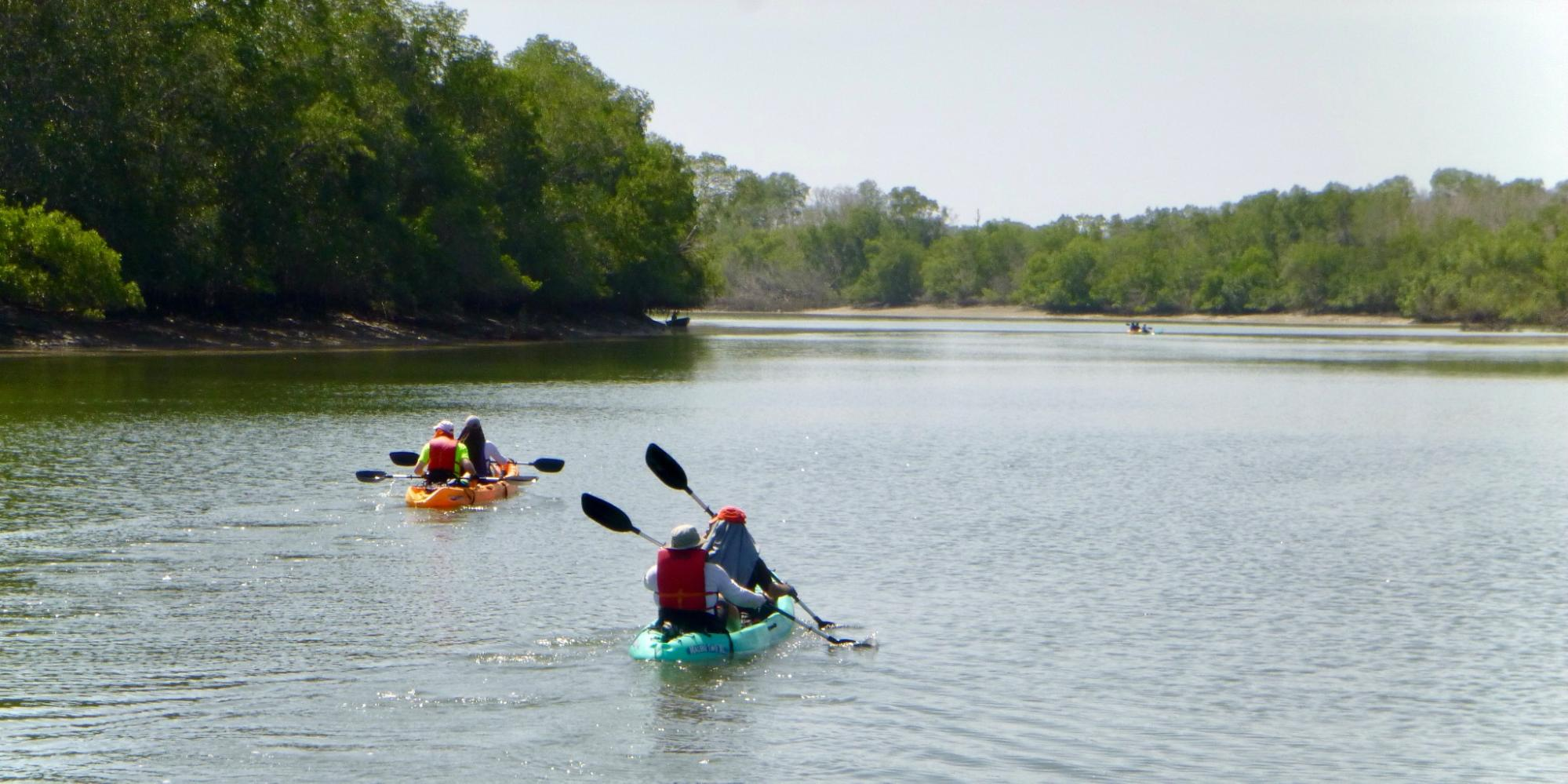 Women's Association of Chira Island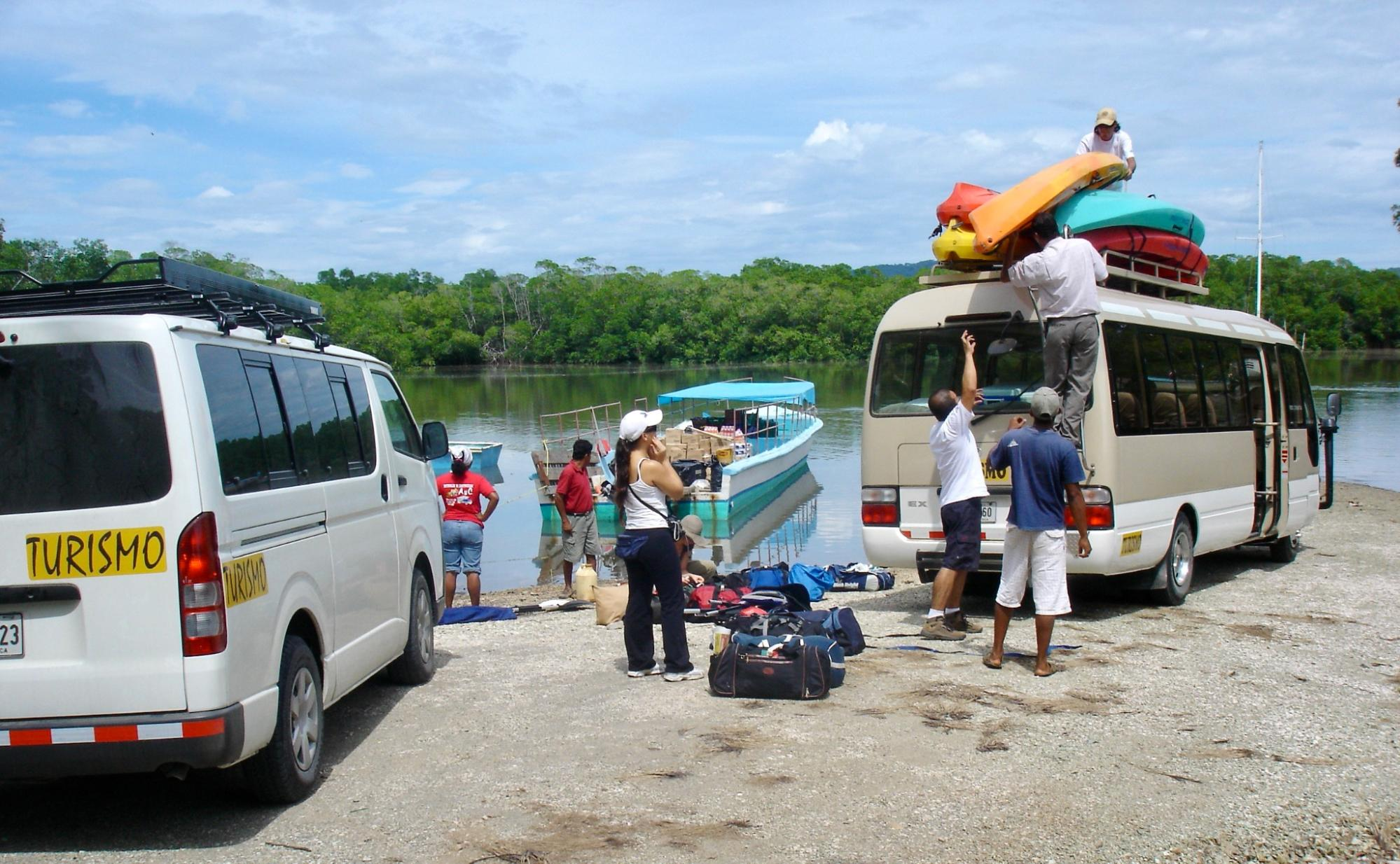 Kayakers looking for a balance of land and sea can choose to venture further into Chira Island and discover a women-run ecotourism project during their kayak adventure. We love supporting the Women's Association of Chira Island (also known as ADIC or "La Asociación de Damas de la Isla de Chira"), a nationally recognized foundation dating back to 1999.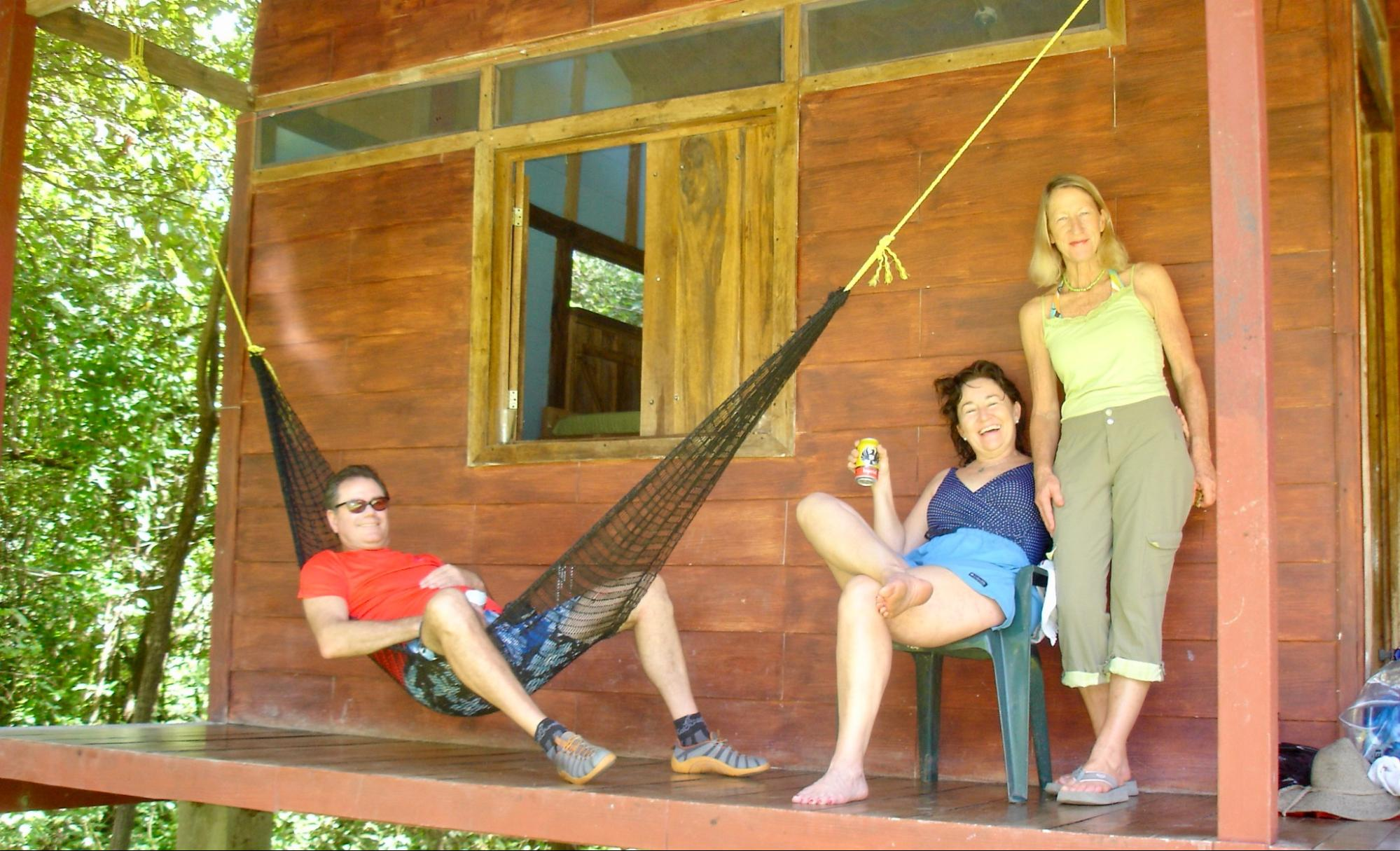 The ADIC focuses on empowering women entrepreneurs and their families through ecotourism initiatives in Costa Rica, allowing them to produce income for themselves and improve their autonomy and agency. Choose to include an extra stop at Chira along your sea kayak trip for a unique and female-empowerment focused experience!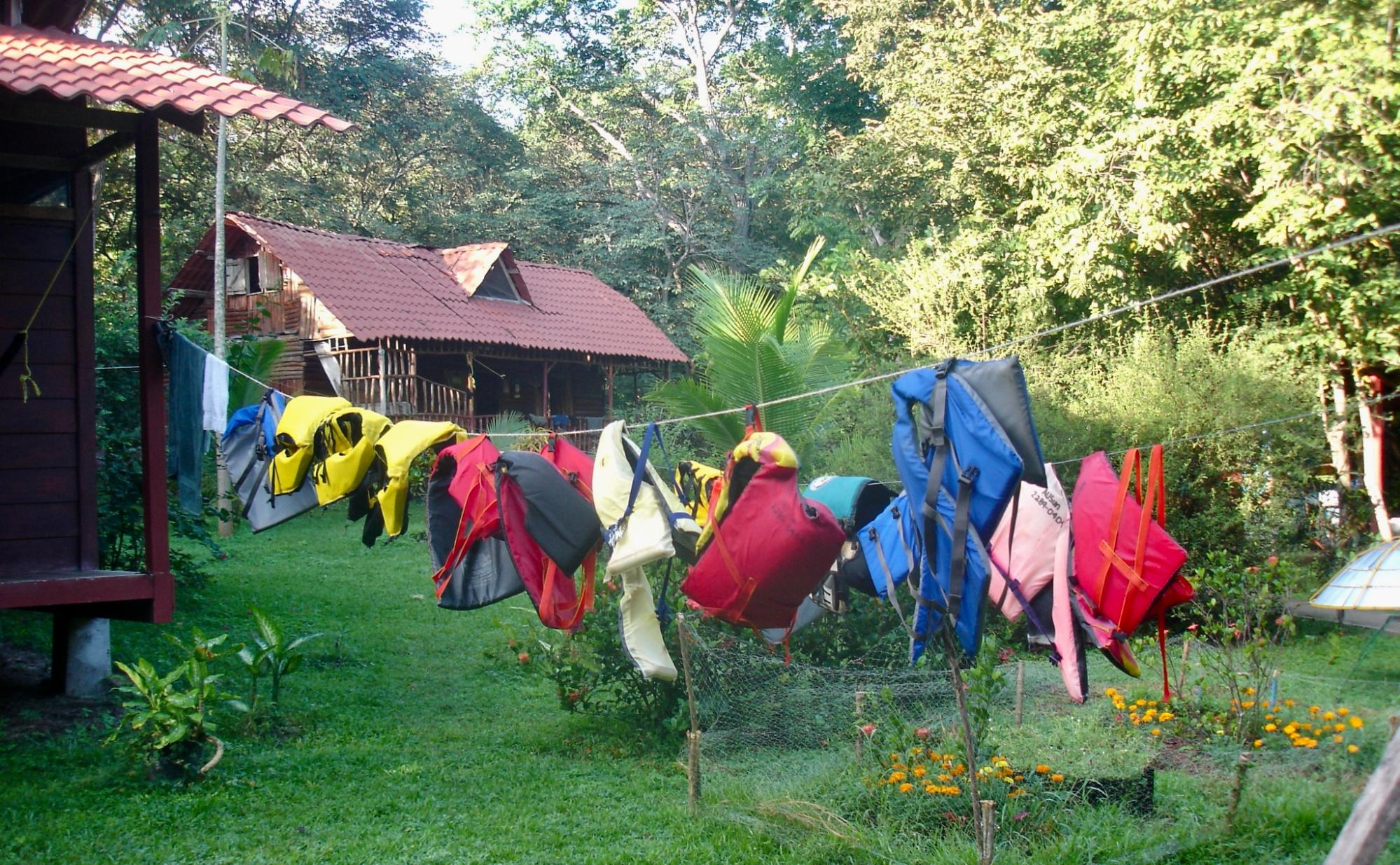 Isla Tortuga Snorkeling and Kayaking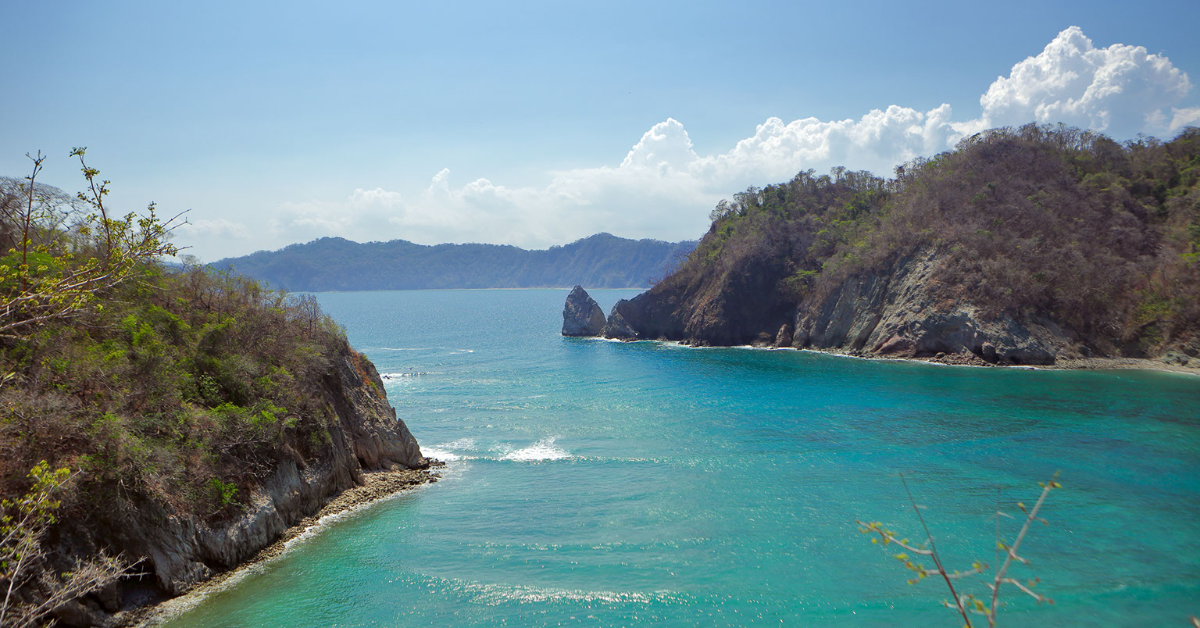 Finally, Isla Tortuga offers incredible kayaking and snorkeling, as it sits right at the mouth of the Gulf of Nicoya. This environment gives ecotourists an opportunity to view ocean ecology swimming by from both the open Pacific Ocean and the calmer waters of the gulf.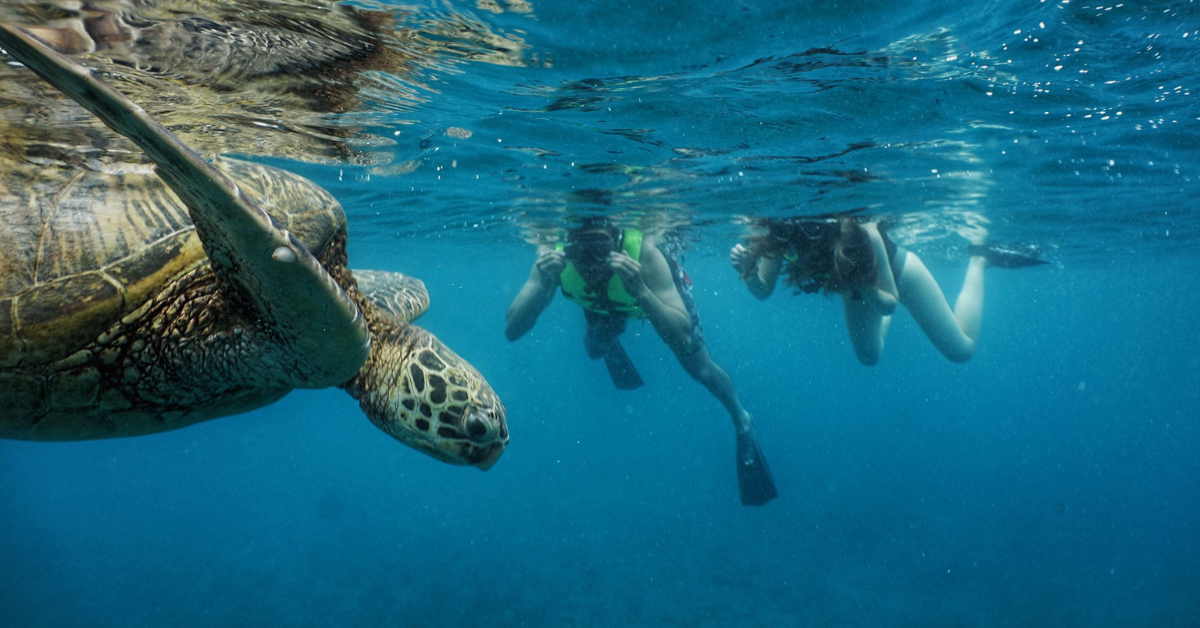 Kayakers who wish to hop out and snorkel will find ample chances to do so off of Tortuga's shores. Bring your snorkeling gear and take a dip and swim amongst Costa Rica's aquatic ecosystem to get an even closer look at all the incredible creatures living below the ocean waves!
Book Your Costa Rica Kayaking Trip Today!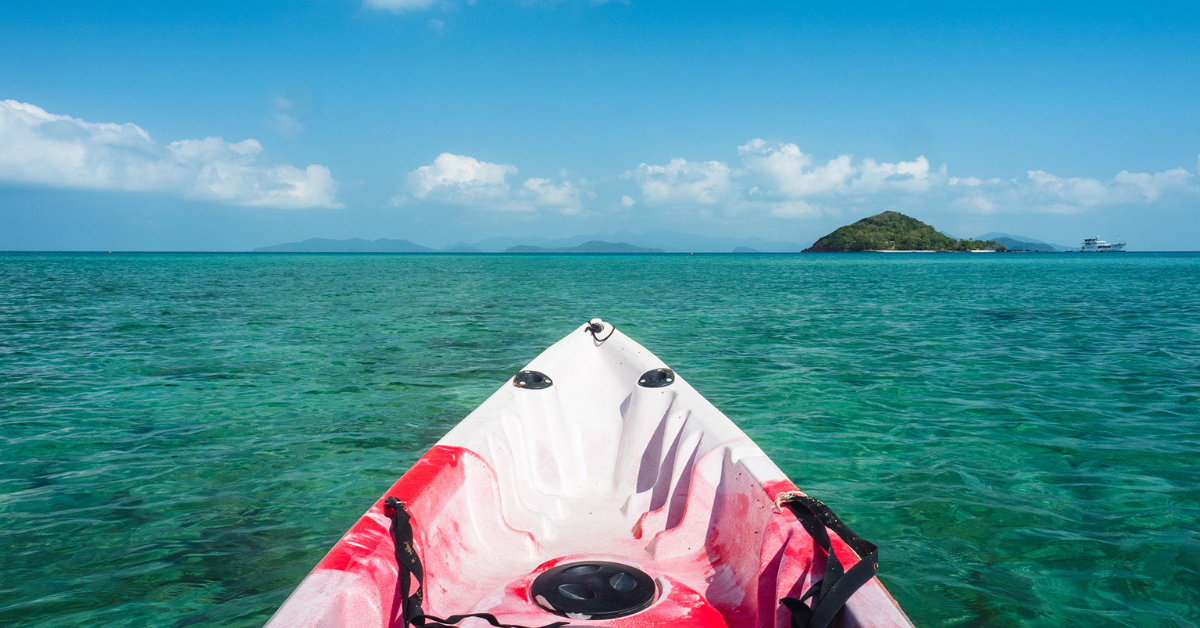 Whether you're hoping to flit between islands in Costa Rica while bobbing the waves, get up close and personal with sea turtles and bioluminescent algae, or simply enjoy the sun on your back and salt in the breeze, booking a sea kayaking trip in Costa Rica provides adventurers with one of the most enjoyable ways to explore the country.
By choosing a Costa Rica kayaking tour ecotourists can still abide by a "leave no trace" philosophy while also appreciating some of the most interesting aspects of this region.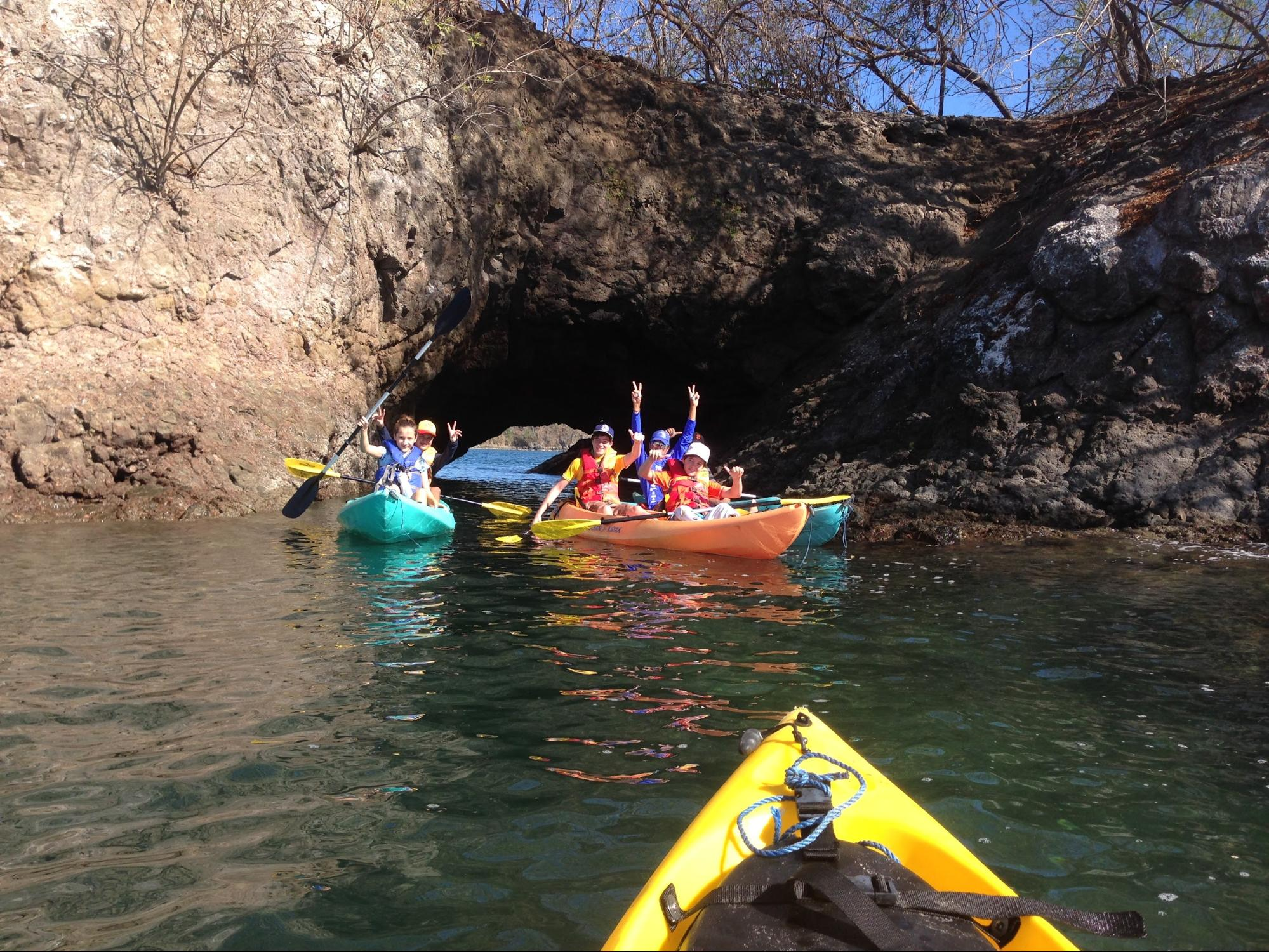 At AUSUN, we specialize in eco-friendly and adventurous sea kayaking trips in Costa Rica that give visitors an unforgettable experience while still respecting the majesty of the natural environment we cherish.
Our guides have over 21+ years of experience leading sea kayaking tours, hikes, and expeditions all over Costa Rica. From beginner kayakers to seasoned experts, we can create a kayaking trip to suit your group's needs.
Want to discover the wonders of sea kayaking in Costa Rica first hand? Call us at +506 22 890 404, or email us at [email protected] – unlock the secrets that these magical islands have to offer!